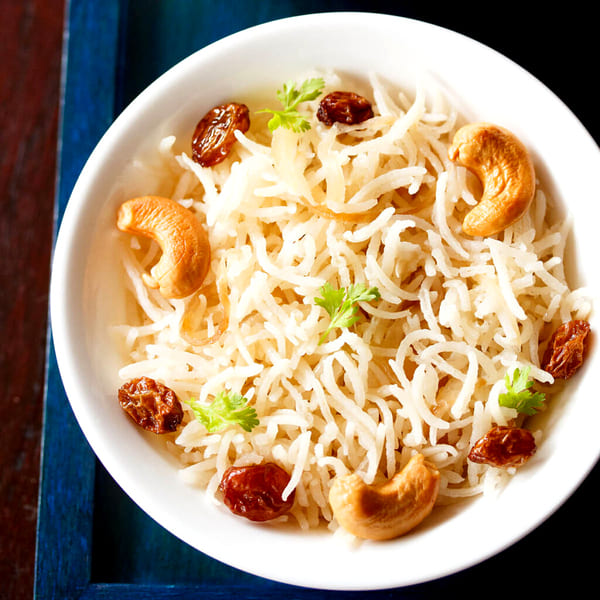 Classic ghee rice is a flavorful side dish that features clarified butter (ghee), onions, and lots of rich spices.
Ghee rice is a popular South Indian pilaf like dish made without any vegetables. It is commonly paired with lentils, veggie curries, and korma. It includes aromatic spices often used in Indian cuisine, caramelized onions, plus cashews and raisins for extra flavor and great textures.
1 cup basmati rice – 190 grams
3 tablespoons Ghee (clarified butter)
15 to 18 cashews
1 tablespoon raisins (without seeds)
⅓ cup thinly sliced onions – 50 grams or 1 medium-sized
1.75 to 2 cups water for stove-top pan and 1.25 cups for instant pot
⅓ teaspoon rock salt (edible and food grade) or add as required
1 to 2 tablespoons chopped coriander leaves (cilantro) for garnish
1.5 inches cinnamon
3 green cardamoms
3 cloves
2 single strands of mace
4 to 5 black peppercorns
1 tej patta (Indian bay leaf)
Rinse basmati rice in water until the water runs clear of starch. Soak the rice grains for 20 to 30 minutes in enough water.

Later drain the water and keep the soaked rice aside.

Before cooking, gather all the ingredients and set aside – the whole spices, cashews and raisins.

Slice 1 medium sized onion and set aside.
Frying Cashews And Raisins
Heat 3 tablespoons ghee in a thick bottomed pot or a thick bottomed pan. Keep the heat on a low.

Add the cashews first. Fry till you see light brown specks on a few of the cashews.

Then add the raisins. Fry until the raisins puff up in the ghee. Do stir continuously while frying the raisins and cashews.

Remove with a slotted spoon and set aside.
To the same ghee, add the whole spices and let them crackle and turn fragrant. Do not burn the spices.

Then immediately add the sliced onions.

Stir and sauté until the onions turn golden or caramelize.

Now add the soaked rice.

Gently stir the rice so that the ghee coats the grains evenly.

Now add 1.75 to 2 cups of water. Add water as required depending on the quality of rice. Some brands of basmati rice need only 1.5 cups of water. So add water accordingly.

Season with salt as per taste. I have used edible and food grade rock salt. If using any other salt, then add as per your taste. Check the taste of the water and it should taste a bit salty.
Cooking Ghee Rice (Stove-Top)
Cover the pan with a tight fitting lid.

Simmer until the rice is tender and all the water is absorbed. Time take will be about 8 to 9 minutes or more depending on the quality, age of rice and the kind of pan.

You can check once or twice while the rice is cooking. If the grains are under cooked and the water has dried up, add some tablespoons of water all over. Gently stir with a fork. Cover and continue to cook.

Once the rice grains are fluffy and tender, rest for 5 to 6 minutes. Later remove the lid. Fluff the rice gently with a fork.

Serve ghee rice hot or warm garnished with fried cashews & raisins and some chopped coriander leaves. It tastes so good, that you can even have it as it is without any accompanying curry or dal or kurma.
Rice: I personally love to make this ghee rice recipe with basmati rice or seeraga samba rice. However, feel free to use any variety of rice you prefer. Just make sure it is a rice that has separate grains that will not stick together when cooked.
Soaking: I do recommend to soak rice for a minimum of 20 minutes. Soaking rice makes them more fluffier while cooking. They also take less time to cook.
Ghee: Make the dish with desi ghee or a good brand or homemade ghee for the best taste and aroma in the dish.
Spices: Use fresh spices which are in their shelf life. Do not use spices that have become rancid or stale.
Nuts and raisins: For more crunch and protein you can add more cashews. To make a sweeter version, add more raisins to the recipe. For a non traditional version, you can include almonds or pistachios. 
Added protein: Though not the norm, but some pan fried tofu or paneer added to the rice as a garnish or topping and will taste good. Boiled chickpeas or canned chickpeas, simple and plain or which have been lightly sautéed in a bit of ghee or oil with a few pinches of salt, red chilli powder or black pepper can be mixed with ghee rice. Mix the chickpeas gently once the rice is cooked or you can adding them as topping on the rice. On occasions I add some leftover cooked chickpeas to the rice and they taste delicious. 
Veggies: Vegetable are never added in ghee rice. However for fussy kids who do not eat vegetables, this recipe is a good way to sneak in some veggies like carrots, spinach, bell pepper, green peas etc. 
Scaling: As-is this recipe serves 2. It can easily be doubled or tripled. Cooled leftover ghee rice will keep well in a sealed container for up to 1 day in the refrigerator.
Sticky or mushy rice: If you overcook the rice or have added more water the rice grains will become mushy or sticky.