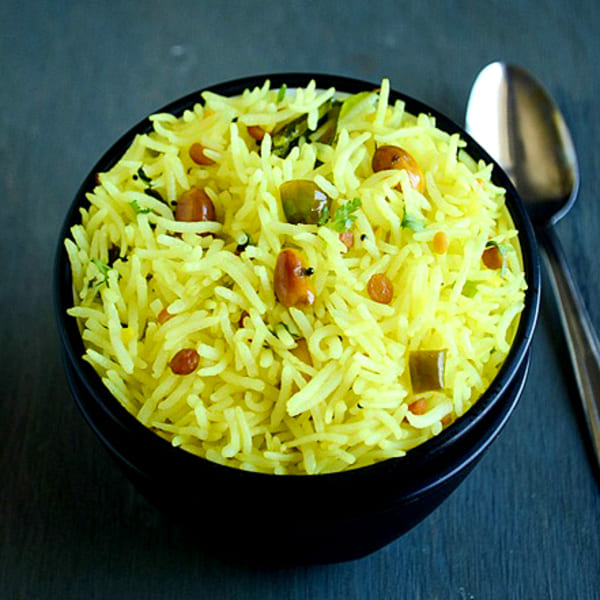 This is one of the simple & easy lunch box recipe, the color and flavor of the rice definitely attracts everyone.
Perfect rice to pack for your picnic, this rice stays good for 2 days if prepared and handled properly.
Cooked rice 2 cups
Fresh lime/lemon  2 or 3 s
Green chillies  3 s( finely chopped)
Dry Red chillies 2 s(broken into pieces)
curry leaves  1 twig
Ginger 1/2″ piece(finely chopped)
Chana dal  2 tsp
Urad dal 2 tsp
roasted groundnut  1 tbsp
turmeric powder  1/4 tsp
Salt  as needed
Oil 2-3 tbsp
Cook rice with a tsp oil. U can use basmati, long grain or Sona Masoori rice.
For 1 cup rice use 1 and 1/2 cup water. After rice done, put rice in a wide vessel to cool down completely.
Squeeze all the limes and add about 4 oz of water and keep aside. Chop Ginger, green chilies, curry leaves, cilantro n keep ready.
Heat oil in an available vessel, add mustard seeds and allow to pop.
Then add Chana dal, urad dal and peanuts and fry till golden brown.
Add curry leaves, ginger, green chilies and dry red chilies and fry for a minute.
Then pour the lemon juice ,turmeric powder and enough salt and mix well.
Add some chopped coriander leaves.
Let it boil for 2 minutes only. If u keep boiling for long time it will give bitterness to your rice.
Allow to cool for sometime and add to the cooled rice .
Mix gently do not broke the grains, and the lemon rice is ready.
Always mix rice with enough lemon thokku, at that time it will taste more tangy but once it set or after few hours (for lunch box or for your picnic food) it tastes perfect.
Adjust chili amount to your taste.
Use sesame oil/gingerly oil for authentic taste n flavor.