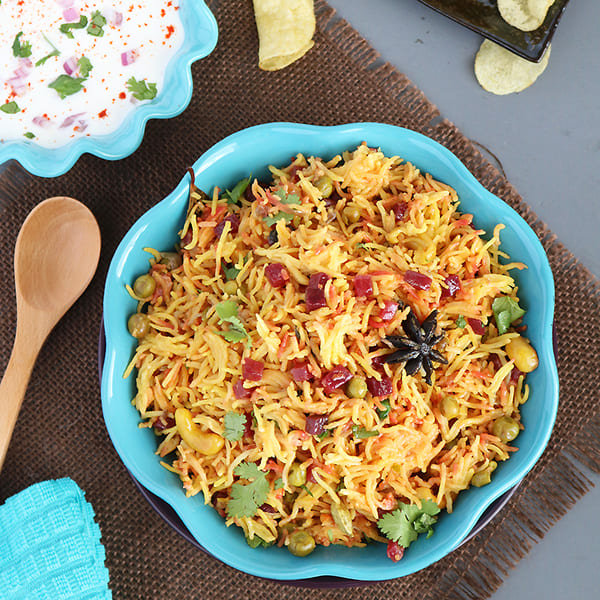 "Peas and Beetroot Pulao", an one-pot, quick, easy and delicious Indian pulao recipe made extremely healthy with the addition of green peas and beetroots.
This beetroot pulao is slightly spicy with the sweetness of beetroot coming through in the spiced rice. Kind of a complexly flavored dish that makes for a healthy meal and tastes good as well.
Hello Basmati rice – 1 Cup
Onion – 1 medium finely sliced
Salt – 1 tsp adjust per taste
Beet root – 1 Cup chopped
Green Peas – 1/2 Cup
Mint leaf – 10
Turmeric powder – 1/8 tsp
Jeera powder – 1/4 tsp
Water – 1 Cup
Coconut Milk – 1/2 Cup
Coriander leaf – for garnish
Green chilli – 2 adjust per taste
Garlic cloves – 3
Ginger – 1 small piece
Fennel seeds – 1/2 tsp
Ghee – 2 Tbsp
Cinnamon stick – 1
Bay leaf – 1
Star Anise – 1
Cloves – 3
Cardamom pods – 2
Cashews – 6
First wash the rice and leave it to soak in Luke warm water for about 30 mins. Chop and keep the veggies aside.
Add all the ingredients listed under "For paste" and grind to a very coarse paste. You can also crush it under mortar and pestle.
Now, heat the ghee in the pan of a pressure cooker. Once hot, add all the other ingredients listed under "To temper" in the given order.
Once the cashews start to turn slightly golden, add the sliced onion and give a quick mix. Add the ground paste to the onion and continue to saute until the onion turns slightly golden brown.
Now, add the salt, chopped beet root, green peas, mint leaf and sauté for about 1 min.
Add the turmeric powder, jeera powder and mix well. Add the water, milk and mix well. Now add the soaked rice without any excess water.
Mix gently. Cover the lid of the pressure cooker and cook for 1-2 whistle or until done. Remove the lid of the pressure cooked once the pressure subsides and garnish with coriander leaves.
Serve hot with a side of raita and/or potato chips.
Vegans can use oil instead of ghee.
Instead of coconut milk, you can also substitute it with regular milk.
Mint leaves give a nice flavor to the pulao. I used fresh ones right from my patio garden.