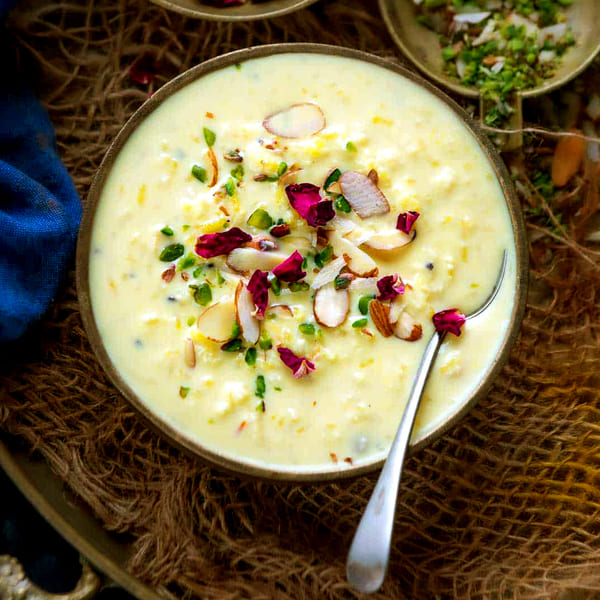 Kheer doesn't need any introduction and is an all-time favorite Indian dessert. All of us, in fact, have grown up, enjoying it with the family and for festivities. A popular sweet that is made in each and every Indian household, especially during festivals.
Rice Kheer is a traditional Indian dessert made using 3 ingredients – Rice, Milk, and Sugar. Other optional ingredients like flavorings and garnishings can be added to it as well.
1 litre Full Fat Milk
3 tbsp. Rice
15-20 strands Saffron
15-20 Raisins
1/2 tsp Cardamom Powder
1/4 cup Dry Coconut Grated
1/4 cup Sugar
Heat milk in a pan.
When it comes to a boil, add rice, saffron, raisins, cardamom powder and grated coconut.
Cook on low heat till kheer thickens.
Keep stirring in between.
It will take 45 minutes to an hour for the kheer to thicken.
Add sugar and cook for a minute.
Garnish with slivers of almonds and pistachios.
Serve hot or chilled.
Rice Selection : Use Hello Mongra Rice to make kheer.
Use full-fat milk to make this recipe for best result.
You can skip adding saffron if you wish to.
Soaking Rice : Soaking the rice is very important so do not miss this step.
Cook it on low heat and in a heavy bottom pan.
Keep stirring after regular intervals. Make sure the malai doesn't get stuck at the corners of the pan. It should combine with the rice and milk and regular stirring will make sure of that.
You can fry the dry fruits in little ghee before adding them to the kheer. It will give a different flavor.